Partial, Precision & Immediate Dentures in Brandon, Carberry & Neepawa
If you have missing or worn out teeth, dentures could be the way to restore the youthful vigour to your smile. Kyle Ryan Denture Clinics has 3 Manitoba locations – Brandon, Carberry & Neepawa – and we've served the region's denture needs since 2003. Each one of our clients is an individual with specialized needs, and we tailor our service depending on your appearance, lifestyle and level of comfort. When you come see us, you'll be able to choose from a range of denture options: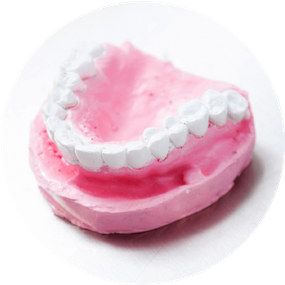 3 Locations
Our Manitoba denture clinic serves Brandon, Carberry and Neepawa
Immediate Dentures
We take impressions of your teeth and gums and craft your immediate denture prior to extracting your natural teeth, meaning that you'll be able to wear it upon the extraction of your teeth without any downtime. You won't ever have to go without teeth, and you'll be able to go about your life with confidence. The denture is placed immediately after your extractions to help with clotting and bleeding. During the healing period following extraction surgery, your jaw will heal and change shape, so you will require regular checkups, from one week to six months after surgery. Temporary liners are required while you're healing to help with shrinkage of the gums and loosening of the denture. Once healing is complete, you may need a permanent rebase to maintain the dentures integrity or an entirely new denture to allow for a better fit.
Precision Dentures
To give your dentures a natural look and feel that suits your personal features, we can design precision dentures. We take considerations like your complexion, age, jaw shape and jaw movements into account. We use high-quality artificial teeth, which we set in order to allow for a vibrant smile. Many patients choose precision dentures for comfort, performance and appearance.
Partial Dentures
If you still have some remaining teeth, we can specially design partial dentures for your specific individual needs. Our aim is to create a comfortable, removable partial denture that helps to preserve your remaining teeth and benefits your overall oral health. This can be created using either acrylic material or with a combination of metal and acrylic; metal partials are typically stronger and more hygienic, while we usually recommend acrylic partials as a temporary or transitional denture. When you sit down with our denturist, Kyle Ryan, he will determine the best treatment plan for you.