Denture Maintenance: Repairs, Relines & Rebases in Brandon & Beyond
For dentures to be secure, attractive and effective, it's important to get proper maintenance. The shape of your jaw will change over time, and repairs and adjustments will therefore be necessary to preserve your oral health and comfort. At Kyle Ryan Denture Clinics, we're here for all of your ongoing maintenance needs in Brandon, Carberry and Neepawa.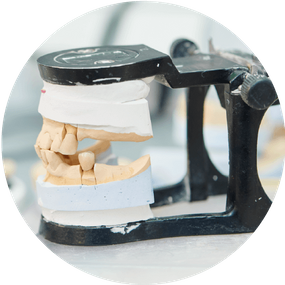 3 Locations
Our Manitoba denture clinic serves Brandon, Carberry and Neepawa
Repairs
If your denture is chipped or cracked, repairs can restore it to close to original condition. Kyle Ryan can offer advice regarding the condition of your dentures and how to avoid further damage. Depending on the extent of the damage, we can often provide same-day denture repairs.
Relines
As bones and tissues in your jaw shrink and change over time, you may require relining to maintain a correct fit with your dentures. This is when new acrylic material is added to the inside of the base of your denture, where the prosthesis rests against your gums. For this to be effective, the teeth, base and bite position must all be in good condition. Reasons you might need relining include:
Jaw changes during or after immediate dentures
Loss of teeth
Weight loss
Rebases
When we perform rebasing, we create a new pink acrylic base for your dentures. The existing teeth remain in the same place, but the base material is entirely new. Some reasons for a rebase procedure include:
Weak or worn out denture base
Broken denture
Adjustments for immediate denture
Don't endure the discomfort of dentures that don't look and feel as they should. If you require adjustments, contact Kyle Ryan Denture Clinics immediately.